Join us and teach abroad in China!
Experience the low cost of living and benefit from the culture that goes back years;
You will enjoy an excellent work-life balance while teaching overseas;
Young Graduates, this is the perfect opportunity for you!

.

Authorized by Chinese government(SAFEA)

Quick connection to jobs

10 years' experience

Legal work visa

Multiple choices of schools and cities

24/7 life support

Professional Academic Training

Positions across China
POSITIONS
We visit and strictly select positions in Kindergartens, Primary Schools, Middle Schools(and above) and Training Centers all over China.
WHAT WE OFFER


Paid public holidays
Flight allowance
Travel allowance during Winter & Summer holidays
2 days off each week
Chinese learning environment
A reputable teaching experience in China
Free housing or hoursing allowance
Health insurance
Free medical check
Legal working visa
Legal Residence Permit
24/7 support without knowing Chinese
Airport pickup on arrival
Free hotel upon arrival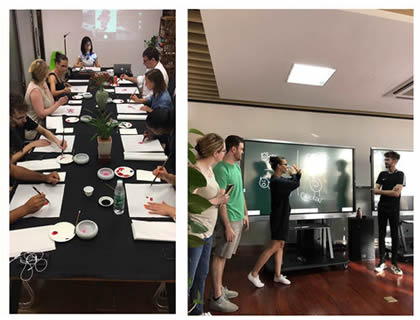 "
Taking that leap changed my life. Teaching in China has not only given me a richer life experience but it's changed my perspective and understanding of the world. It's allowed me to open up my potential and connect with people on a much deeper level. It was the best decision I've ever made and I must praise Echo Education for facilitating my transition to China and tailoring my strengths to the correct opportunity. Since boarding that plane ... I've never looked back
"
FREQUENTLY ASKED QUESTION
How do I get a teaching job in China?

If you are looking for a job to teach English abroad, China will be a great choice. Chinese culture is unique and fascinating; it will be a great experience to work in China. Owing to the rapid economic development, the demand for English learning in China has growing dominantly in recent years. This provides a great opportunity for English speakers to easily find competitive teaching jobs in China. Please click the "Apply Now" button to connect to our HR department for further information and work opportunities.

Am I qualified to teach in China?

A passport holder from: the United States, United Kingdom, Ireland, Canada, New Zealand, Australia or South African. (due to visa regulations).
Graduate (of any subject) with a bachelor degree.
Clean background check.
Have a TEFL/TESOL/CELTA/TESL certification .


Do I need a TEFL certificate to teach in China?

You need to have a teaching credentials (TEFL/TESOL/CELTA/ PGCE, etc.).
Candidates graduated from major in education do not need teaching credentials.


Reference letters issued by the previous employers in China and overseas, which covers recent 2 years teaching experiences could instead of teaching certificate.

You may take our FREE TEFL lessons now.

Do I need to have a degree to teach in China?

Candidates need to have a bachelor degree of any subject.

What do you need to teach English abroad?

1. Desire to work abroad and enjoy teaching English in China.

2. Capital preparation for coming.

3. Documents collection for work visa application.

4. Close connection with Echo Education and the School.